NHS Students Accomplish First Service Project of the Year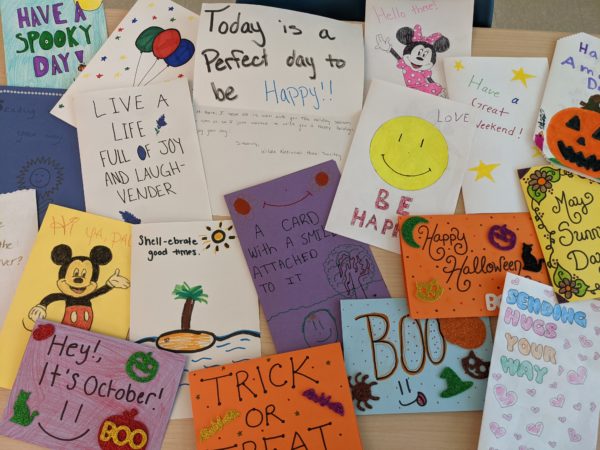 The 25 members of the H.C. Wilcox Technical High School National Honor Society worked creatively to accomplish their first service project for the 21-22 school year.
In order to bring joy to residents of the Connecticut Baptist Homes in Meriden, the NHS members created a collection of home-made cards with uplifting messages. NHS members took a variety of approaches–some included Halloween-themed messages like, "Hope your day is full of treats" and "Hope your October is full of nothing but treats and spook-tacular fun!" Other members opted for timeless uplifting messages like, "Sending cheerful thoughts to brighten your day" and "I hope you are having a magical day."
NHS members felt this was an important service project to undertake. Dakota A. shared, "To me, making these cards was meaningful knowing that we would be making peoples' days by giving them something to smile about." Another member, Chelsea F., described the event by saying, "With Covid precautions, it's been difficult to help the community, especially those who are more at risk. Making cheerful cards for the residents of the CT Baptist Home is a wonderful pandemic-friendly way to spread some joy."
NHS was able to coordinate this project with the Director of Therapeutic Recreation at Connecticut Baptist Homes to ensure the cards could be safely dropped off with residents by the Recreation Staff. The members of the H.C. Wilcox Technical High School National Honor Society are looking forward to additional service projects this year to benefit the Meriden community.
If you would like to request or recommend a service project for the National Honor Society at Wilcox Tech, please reach out to the adviser, Alecia Walkuski. Contact information can be found on the H.C. Wilcox Technical High School website.