About
H.C. Wilcox Technical High School, part of the Connecticut Technical Education and Career System, is offering a limited number of seats to grade 10, 11 and 12 students from Francis T. Maloney High School and Orville H. Platt High School in the Meriden Public Schools to participate in an after school, career training program.
The Career Academy program will graduate students with two and a half CTE credits towards a high school diploma and industry-recognized credentials in one of four in-demand trade areas: Facilities Carpentry, Culinary and Automotive Collision and Repair.
The Career Academy program gives students a jump-start on their career by preparing them with technical and employability skills aligned with entry-level industry positions.
Benefits
Industry Recognized Certifications

Up to 2.5 high school credits

Creative, Hands-on After School Activity
Programs Offered
What our students are saying
"I've done baking and cooking in the past, but I've never taken a real serious class. The Career Academy is helping me for my future career and will help build my resume."
"I would encourage students to try the Career Academy because you learn a lot of skills you wouldn't have had otherwise."
"I wanted to come to the Career Academy because I like hands-on work and I want to be able to build stuff for myself in the future, instead of hiring someone else to do it. I have goals I want to work towards."
In the News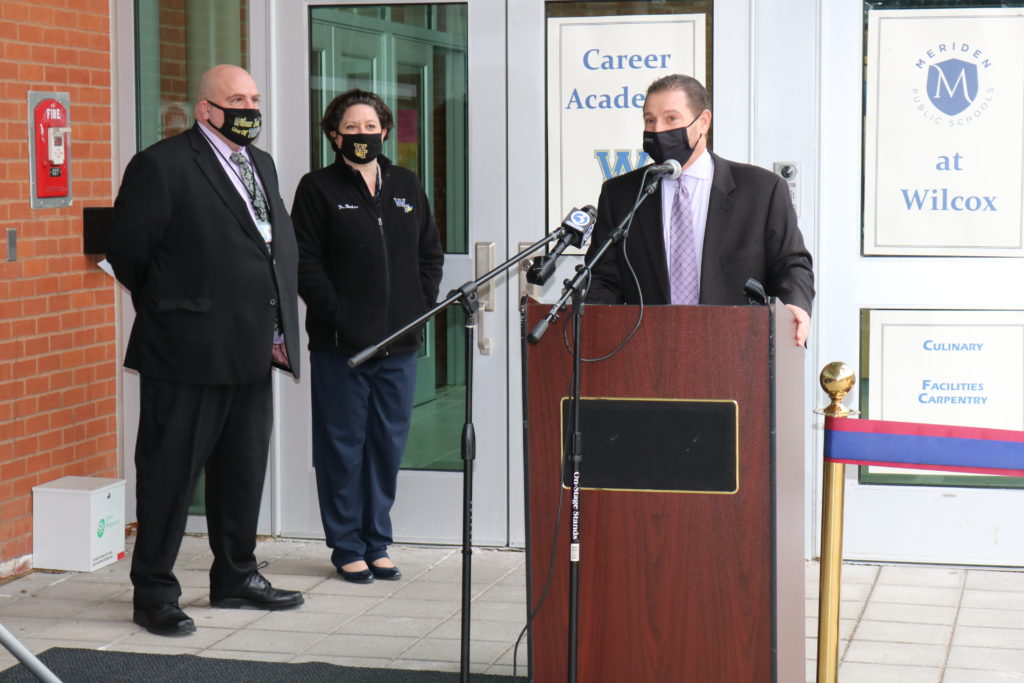 Students from the Auto Collision technology trade and Career Academy fabricated a desk using parts from old cars, computers and scrap metals. All students had a part of the creation of the desk from the initial creative design and each piece aligned with what they were learning in the trade. Students enjoyed collaborating with each other to create this one of a kind work of art from choosing the paint colors and adding our new [...]
MERIDEN — Students wore disposable caps, hair nets and aprons as they walked past a row of stainless steel tables and kettles, and queued up to wash their hands in the large commercial kitchen at Wilcox Technical High School. They were getting ready for their first lesson in culinary arts. Down the hall, instructor Zeke Lehrer introduced another small group of students to a computer numerical control milling machine, which is used in precision manufacturing. [...]
How to apply
Applications can be picked up in the Meriden school counseling offices or will be shared with families via email. Please complete the application in its entirety, have your parent/guardian sign, and return the application to your school counselor. Your counselor will complete the rest and submit it to the Career Academy. Applicants will be contacted by H.C. Wilcox once accepted to the program.
For application questions or for more information, please contact your school counselor:
Maloney School Counseling Department: (203) 238-2334, ext 8350
Platt School Counseling Department: (203) 235-7962, ext 7709